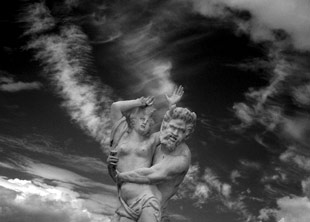 (To create the essence of the show we bring simple props, scenery and lighting)
| | |
| --- | --- |
| Philippa Hyde | soprano |
| Tim Carleston | counter-tenor, natural trumpet |
| Daisy Vatalaro | baroque cello |
| Helen Rogers | harpsichord |
'How sweet the moonlight sleeps upon this bank!
Here we will sit and let the sounds of Musick
Creep in our ears.'
(The Merchant of Venice)
2014 is the 450th anniversary of the birth of William Shakespeare and 2016 the 400th anniversary of his death. To mark these dates, The Musicke Companye has devised a new programme featuring some of the finest baroque music inspired by our most famous playwright. Spanning nearly 200 years of music, the peerless verse of The Bard is interwined with glorious music by Handel, Purcell, Johnson, Banister, Arne, Monteverdi and Scarlatti.
Stories of lovers, fairies and spirts; comedy, tragedy and above all drama abound in this captivating evening.