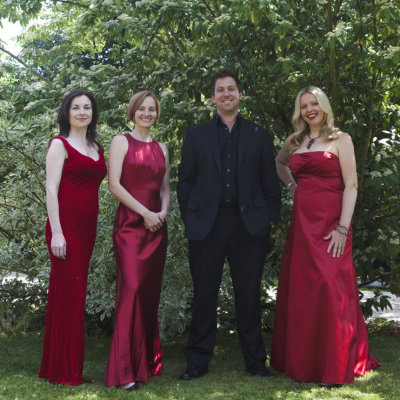 "One of the most gifted and more musically intelligent of all the early music groups currently before the public"
(Musical Opinion)
The Musicke Companye was formed in 1991 to explore the rich and varied world of baroque vocal chamber music, bringing together superb musicianship and stagecraft, in highly original and dynamic programmes. Since then, the ensemble has been in increasing demand performing regularly throughout Europe on stage, radio and TV to great critical acclaim.
In 1993 The Musicke Companye was a finalist in the Fifth International Early Music Network Young Artists' Competition which was held in London and broadcast on BBC Radio Three. The ensemble was the only early music group to be featured in the 1993 BBC Radio Three series Young Artists' Forum broadcast from the National Portrait Gallery, London. The performance was rebroadcast in 1995 as a highlight from the series.
The Musicke Companye has toured many times throughout the U.K. as part of the National Federation of Music Societies Concert Promoters' Network appearing in arts centres, town halls, churches and schools and receiving unanimously excellent reviews. Radio broadcasts include numerous live appearances on Classic FM and BBC Radio 3, as well as live radio and TV appearances throughout Europe. The Musicke Companye have given concerts in Norway, Sweden, Denmark, France, Holland, Spain, Italy, Poland, Cyprus and Croatia and appeared at numerous festivals throughout the UK. The Musicke Companye has performed several times at London's Wigmore Hall and Purcell Room, Southbank Centre and have premiered new works by composers Adrian Williams and Matthew Taylor.
The Musicke Companye have released three CDs: 'Oh! Ravishing Delight' for the Forties Recording label of English and Italian baroque music; 'Handel and Companye', featuring music from Handel's London by Handel, Bononcini, Geminiani and Steffani on the Swedish label Intim Musik and 'O Bone Jesu', featuring sacred Italian music of the 17th and 18th centuries alongside contemporary instrumental works.